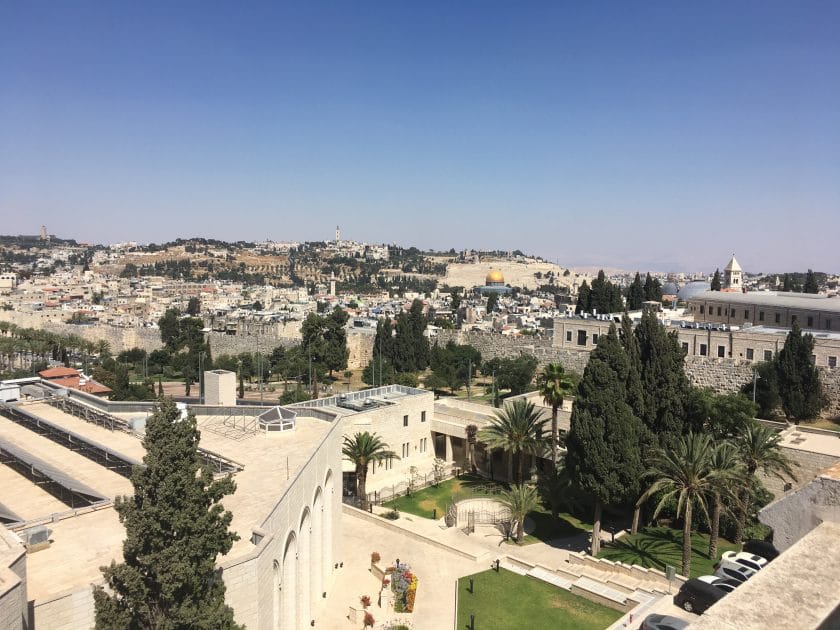 It's true what they say, the women in the Israel Defence Force do have tailored uniforms, no baggy combat pants for these girls toting their machine guns. Fully armed police and IDF people are everywhere usually in groups of 3, 4 or 5 – they're on the trams, at the tram stops, on the streets and they openly patrol the Muslim Quarter of the Old City – but ironically, it feels really safe here. I feel comfortable walking around in the evening. I entered the Old City via the Jaffa Gate, it's a fascinating maze of narrow streets and alleyways opening out to little leafy courtyards. There's food cooking and the usual shops of souvenir trinkets. I waited in line to go up to the Temple Mount, an area Jews are forbidden to go, and left via another exit to walk through the Muslim Quarter. After a few hours in this heat I start to get really tired and regardless of how much water I drink, my energy level drops, and it's forecast for 32º tomorrow. I've figured out the trams, there's just one line with them going both directions, and I bought a travel swipe card. Everyone is generally helpful with information but there's so much to figure out and it's hard to remember street names – but if I can find Ben Yehuda Street, then I'm generally heading in the right direction.
Today I went to Yad Vashem, the massive holocaust museum, quite impressive and very powerful, and every historical aspect is dealt with thoroughly including the basis for how it happened – going back hundreds of years. There's lots of multi media and I listened-in on a few guided tours.
Travelling on my own makes it easy to chat with people. Coming out of the museum I suddenly realised how overwheling the experience is. You exit with a big view out across the countryside.
I'm glad I have the little Airbnb room in Rehavia District to come back too every few hours, it's a really nice district and the owners are two ex-Londoners, a young Jewish couple with a baby who are planning to return to London because Israel has a low wage economy, they tell me, but their dream is to live in New Zealand.