Standing on the South Bank in the morning sun I needed to choose at least one significant place to visit in London. I'm only here for a few days before and after my side trip to the Isle of Wight. I strolled along the embankment and considered the options. Living in London for about six years back in the early 90's I stopped doing those 'touristy' things – but now I have no qualms about it. The National Theatre has two plays that interested me: Salome and a new one called Common set in early 1800's – and they'd both be superb, of course. I have no interest in the big musicals but the wacky London Dungeon show looks like the kind of cheap gory slapstick I'd enjoy. I immediately ruled out the London Eye and the Tower of London, and Buckingham Palace is never going to be on the list. I settled on St Paul's Cathedral because I've never been inside – I spent two amazing hours there, even climbing the stairs to the upper outdoor balcony.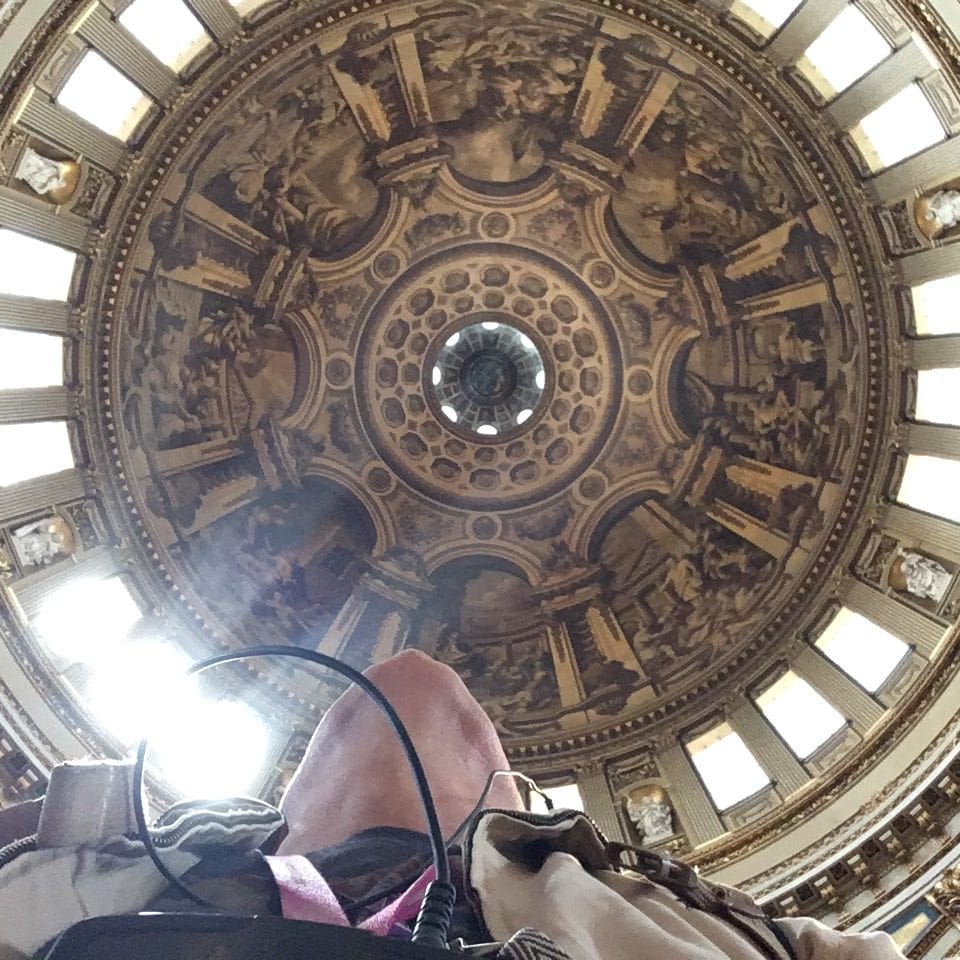 Entrance is £16 and includes a headset and a very hi tech visual hand unit about the size of an iPhone 7 with videos and information that's really easy to use. I normally hate these fiddley things with a commentary but some clever tech team has designed something quite amazing because you choose the bits you want to hear and there's short videos.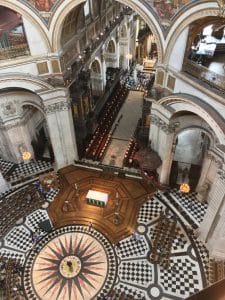 I used my binoculars and learned the story of each panel in the main dome. Paul's journey to Christianity and his spreading of the word. I have looked closely at a few ancient religious story panels recently and realise the faith was primarily based on a few clever conjuring tricks; getting bitten by a snake and not dying, making someone instantly blind, and curing a cripple ('look he's walking!') is all the proof you need. One of the panels in the great dome shows Paul burning the books of other pagan belief structures of the time – way to go. Religious mythology aside you can't help but be completely blown away by the architecture, art and music it produced – and I speak as a person who studied and still enjoys listening to Palestrina plainsong, that's the spooky male-choir music they use all the way through movies like The DaVinci Code.
It was a big day; I bought advance tickets for my journey to the Isle of Wight at Waterloo Station in person so I could talk about the options. It's one of the wonderful things about Britain, and I've been reading Bill Bryson's latest book while travelling and he says the same things but much better – Britain is charming. London is full of people and yet it feels safe, sensible and civilised. It's a good change from the grim and menacing hordes of homeless on the street corners in Portland. I only saw a few individual beggars in London, apparently, Boris Johnson 'got rid of them'.
I enjoyed wandering through Soho, had a bite at a restaurant called Kricket where Luca used to work, chanced on a Kath Kidson shop and bought something for Julia. After St Paul's I travelled to Brixton to meet Allan Evans, a New Zealander who stayed on in London and whom I used to play in a duo with, 20 years later we picked up like it was yesterday.

We sat in a place called Brixton Box, a cluster of containers around a court yard that's definitely the hang out for the new young Brixton arrivées – arty and edgy, and a bit rough and ready. Brixton is still the same, lots of West Indian people 
playing reggae, it's still grubby, but lovely.
People ask me if I think London has changed, well, yes and no, there are all new shops, people have phones in their hands rather than A to Z map books, there's more people I guess, but to me, it feels and looks more or less the the same. It was the smell inside the Underground that brought it all back – I really, really like London . . to visit. I'm so lucky to be able to stay with Leo, an expat in Brixton just a short walk from the Underground. He is renovating a flat and being an artist it's going to have some very tasteful features. It's so good to have a friendly kitchen table to sit at – because onwards from here it's going to be crowded hostels and cheap hotels.