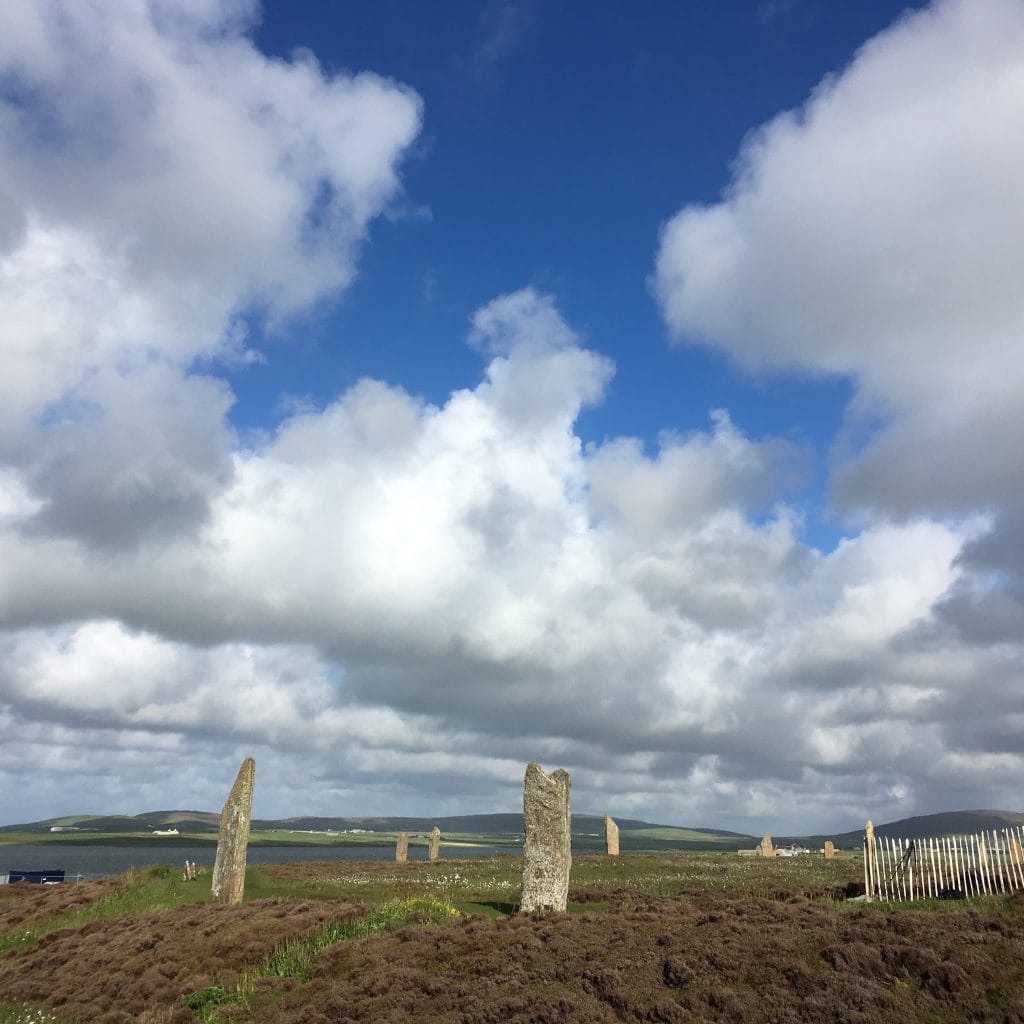 It seems I'm on a constant search for good wifi. The hostels are hopeless. Usually I try to find the actual location of the modems, sit by it and if that doesn't help, re-boot it myself – but the airports are good. Today I left Kirkwall town early for the airport to have a couple of hours before my flight to Edinburgh to do some emails and blogging.
The main problem is uploading images of course. I have a couple of hours before a flight to Stockholm here in Edinburgh. It's an end of quaint country pubs and friendly locals with heavy accents to a modern metropolis.
I am so glad I pre-booked these flights 5 months ago, NZ$180 from Orkney to Edinburgh and just $140 from here to Stockholm, which included checked luggage. So far my two costly flights were the ones booked a week out. This was done to give me some date flexibility; London to Edinburgh was $350.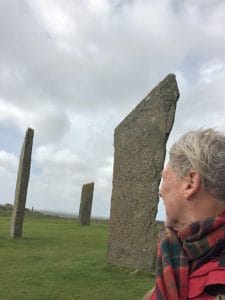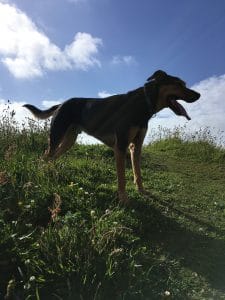 Before I enter Scandinavia I must post a couple of images from my walks around the stone circles and ancient sites of Orkney. It's not often I say to a bus driver, 'Can you drop me off at the turnoff for the Stones of Stenness, please.'
I walked 2km up the road and practically had the three sites to myself. The weather was good although the northwesterly brings the temperature down to 12 degrees. The next day the wind swung around to southwesterly and it was really warm in the sun. I met some interesting people including a local medic walking his dog which was a New Zealand-bred Huntaway – a sheep dog. Everyone gives you information about local issues about the sites, can you believe someone recently spray-canned the stones. The medic also wanted to talk about the All Blacks and I can quite happily talk about rugby for about 5 minutes.
I also met a mad looking hippie German photojournalist called Jurgen who was 'wild camping' as they call it here. It's legal in Scotland to camp whereever you like – a part of ancient rights for common people that still remains. He was on a commissioned job visiting distilleries and other places and was wanting to stay near the Stones to get those beautiful sunset shots – he had an enormous lens on a Canon EOS 80D. The sun sets at 11.30pm by the way – it's a very long day, and of course it's the absolute opposite in winter with really short days.
In this stretch of road is the Standing Stones of Stenness, the Ness of Brodgar and the massive Ring of Brodgar. The Ness of Brodgar is covered over because it's an on-going excavation site and the dig starts again on 3rd July for two months. They only found it after a storm in 2006 – it's about 5,000 years old, appears to be a full village, and now, as they say, archeology is being rewritten on a daily basis there. All these sites are free, there's no security and it is the most beautiful place to be looking around with the distant rolling hills in various shades of green as the clouds pass over the sun.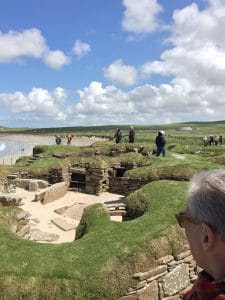 I went on an official guided tour of the island that I had booked from New Zealand which included the World Heritage site of Scara Brae. Clive was the most boring person you could ever meet. The droned on like a newsreader doing the marine forecast, he didn't have any personality and was painfully pedantic. For example, he stopped the van and spent 10 minutes explaining the military details of a British ship that was torpedoed in Scarpa Bayin WW2 . I have an interest in military history to some degree but the exact timing of the 3rd tordedo was starting to get to me. I guess some people are fascinated by this stuff, but not my group. I found the volunteer guides who walk around the sites were much more interesting and personable – these are representatives from Heritage Scotland.
I bought an Orkney tea towel featuring all famous neolithic sights – but haven't decided who's getting that for Christmas.
We had perfect weather with big white puffy clouds and sunshine and a warm south westerly. I was enchanted and could have stayed there for hours.