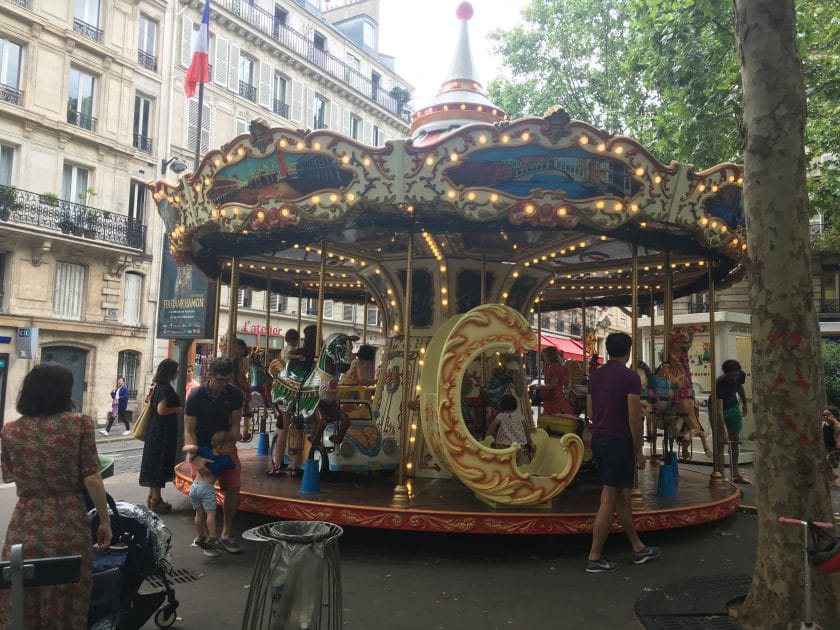 There's a book by Elaine Sciolino called The Only Street In Paris about the Rue des Martyrs in the Montmartre, I haven't read it but gather it's an interesting place to go for an afternoon stroll. I took the Metro to Abbessess near the top and continued up the steps to Sacré-Cœur. The place was really crowded at 3.30pm and the restaurants in the little leafy square near the top are certainly doing good business. The Rue des Martyrs starts quite narrow and the prices are quite reasonable and as you go down the hill the shops seem to get more stylish and the prices for a main course keep going up. The street takes you through the Pigalle region and I walked along to the Moulin Rouge. One day Julia and I must go, it's totally overpriced of course, 87Euro, NZ$144 for a seat up the back, and for the dinner, show & half bottle of bubbly it starts at 230Euro NZ$380 per person, $760 for a night out, and why not – it's a beautiful room glowing in red and I see from YouTube the show is total razzamatazz cabaret – and it's booked-out everynight.
I found a tea shop, Maison de Thé, and popped in as I'm running out of Assam. I love these shops with the big rows of tins. I paid 10Euro for 100grams, I know, $NZ16 for a little bag of tea – but everything is expensive in Paris except eating out if you bother to look down the side streets. On the other hand if you buy food to picnic with, from all the lovely boulangeries and chatueseries, it's also really pricey, the only cheap way to go, I guess, is the supermarkets like Monoprix – but that's no fun.
The most expensive coffee, a double espresso, I observed from a menu at the terrace cafe of the Louvre Museum, but didn't have one myself, was NZ$12.50.