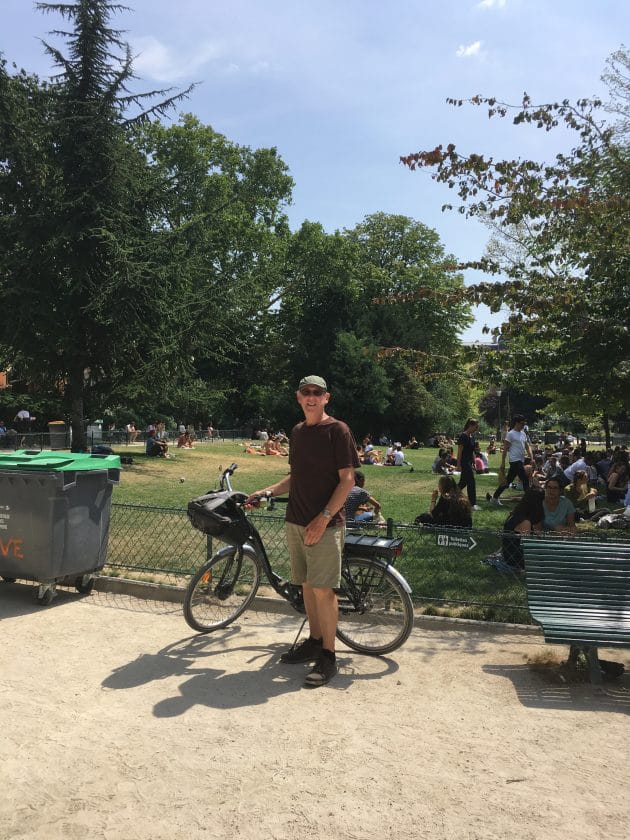 Riding around Paris on an e-bike is the best fun I've had. The traffic is frantic, scooters duck and dive around you, the cyclsts ignore the lights and the cars and buses toot and nudge one another – you need to look around constantly especially when circling the Arc de Triomphe – I love it.
La Villette has the canal pools where I went for swim and then back down the long straight Rue La Fayette to Opera to have a healthy low cost lunch at IKEA. Suddenly I'm on the big wide Champs-Élysées or Boulevard Haussmann. Some of the main roads are bumpy cobbled stones and there are cycle lanes everywhere but there's also road works and construction creating bottlenecks – it's a mess. The only reason I can travel this way is the phone on Google Maps clipped to my bag in the front basket and wearing my progressive glasses so I can read both the map and the street signs. Hurling along on e-power I briefly glance to see I'm passing by the famous Les Deux Magots cafe on Place Saint-Germain des Prés, completely full, of course, with tourists happy to be severely overcharged for the experience of sitting at a table where André Gide, Picasso, Fernand Léger, Hemingway, Sartre and Beauvoir once had their espresso.
Earlier in the day I took a 3 hour walking tour of the Marais district with our guide Léo, many parts still with elements of the medieval streets, ending with Place des Vosges and the old Jewish district. Got a slot at the open mic night at The Highlander cellar, I stayed for an hour and then cycled towards the Tour Eiffel along the Seine where people gather in the evening to hang out and drink at the Quai d'Orsay beside the river. People from everywhere have been drawn here and accept what it has become in mid-summer; a kind of charming chaos that works.
Quai d'Orsay

Lines at 8am to go up the Eiffel Tower.