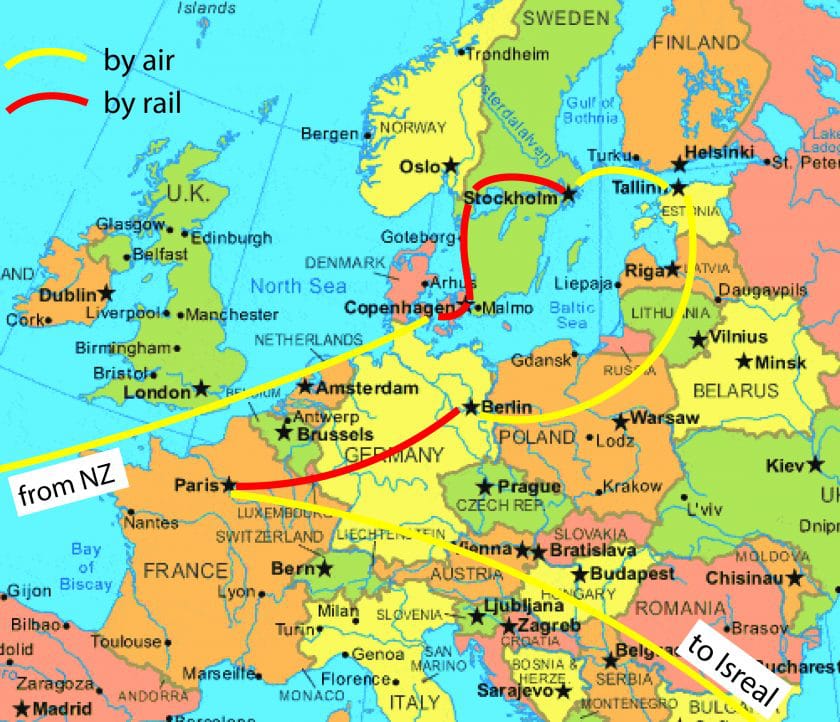 On Sunday 16th June I fly directly to Copenhagen on Thai Air and begin a six week journey to six countries. I will be staying about a week in six different cities; Copenhagen, Stockholm, Tallin, Berlin, Paris and Jerusalem, with a couple of side trips into the countryside in Sweden and France. I'm taking a guitar with me again and will be checking out a few live music bars and have already found a few online that have open mic nights.
I hope to write my blog every couple of days and hope you'll tune in – even if you only check out the pics.
I have pre-booked my accomodation in each city and my air and rail journeys in Europe. It means I know exactly where I'll be on any day, and I guess what I lose in spontaneity I gain in the certainty of staying in good central places and save in travel fares in peak-season Europe. Generally, I try to stay in the more modern hostels with no more than 4 bed dorms, with one AirBnB in Jerusalem. I use Booking.com for most places but some I booked direct like City Backpackers in Stockholm where I stayed last time and really enjoyed their location and homely atmosphere. Other hostels like the Generator chain, where I'm staying in Berlin, are more like hotels; modern interior design, no self catering and with dorm beds that are more like pods with a light, shelf, power and USB outlets, and a big lockable drawer for each person. My only luxury will be staying in a country lodge in Dalsland in West Sweden with meals provided at each end of a hiking trail walk.