Today I walked the length of Hawthorne Street where's there's coffee shops, vintage clothes shops, bookshops, coffee shops, restaurants in every flavour, a cluster of food trucks, coffee shops, meditation centres, bars and cafes, vinyl record stores, a music school, a hat shop,
guitar repairers, and did I mention coffee shops?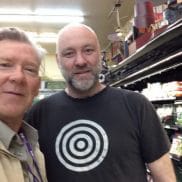 I came across Crossroads Music with an adaption of that picture of Robert Johnson. Inside I heard
about the songwriters night on later in the evening.
There's something of an old-fashioned alternative culture in this part of Portland as if the 60's
and 70's are still very much alive. It's a bit earthy and very organic, there are racks of rental bikes with tiny solar panels, Crosby, Stills and Nash was playing on one sound system and the cafes are full of people sitting on their MacBooks drinking Kombuca.