The Kingslander is generally known as a sports bar and even though the management 'tries music' occasionally, priority will always be given to any significant sports event. But lately, they have taken a serious approach to the Thursday Open Mic night with the inclusion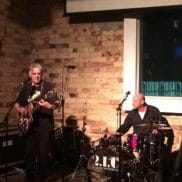 of a massive PA system, a row of monitors and a two-person team, one to co-ordinate performers and the other to tech the sound. They still keep all the screens around the room live with Sky Sport on various channels, on mute, so the patrons can keep an eye on the latest Thursday night sporting events which happened to be Woman's Boxing, Motorsport and Australian League.
There's a very nice full drum kit on stage but Al was told, when taking to the stage, not to play too loud, as a result he played too soft and I could barely hear him. I played two songs using the looper which I realise now is not a good match with a live drummer because loops never loop perfectly and the groove can get a bit jumbled – but we rocked on. After two songs, Ramp It Up and Glow, Lydia, the host, asked us to wrap it up. I said we'd only played two songs and the slot is for three, admittedly both extended versions, and I insisted on finishing with a slow one, Centre Of The Groove, which I shortened down to a two minutes. It felt good to end on a more harmonic note but I came off stage feeling a bit rattled. I think the tech had put a heavy compressor on my guitar because it ducked in and out of volume. Al said, 'I wish the sound on stage was like the practise room'. It's true, it always sounds weird on stage and over the years I have never got totally used to it – I just rock on.